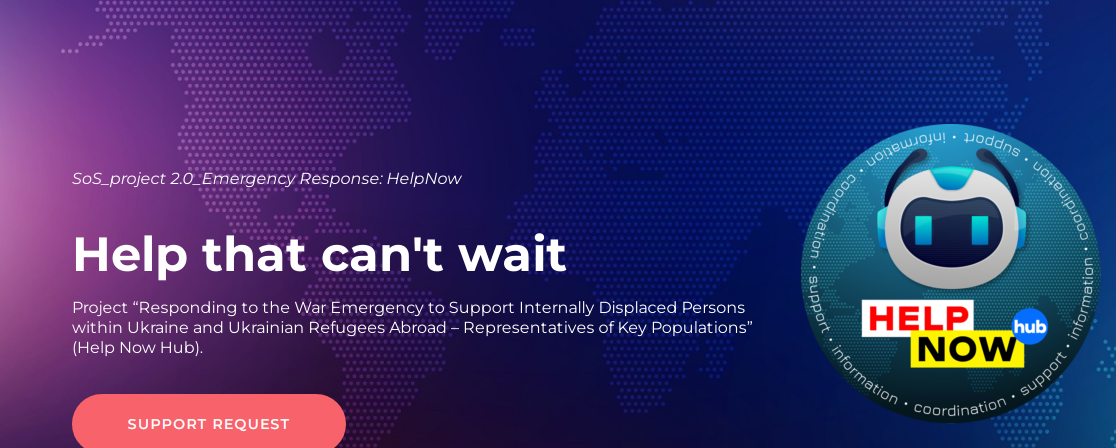 Support to representatives of key population: internally displaced persons within Ukraine and Ukrainian refugees abroad
Help that can't wait: https://helpnow.aph.org.ua/en/.
Project "Responding to the War Emergency to Support Internally Displaced Persons within Ukraine and Ukrainian Refugees Abroad #HelpNOW_HUB is designed to respond to a war-related emergency to support internally displaced persons within Ukraine and Ukrainian refugees abroad – representatives of key populations.
Large scale offensive forced millions of Ukrainians to leave their homes in search of shelter and help. Since March 1, 2022, Ukrainian refugees and internally displaced persons who are representatives of key groups can take advantage of an assistance service called "HelpNow".
The geographical focus of the project
Ukraine and other countries with the largest number of Ukrainian refugees, with a focus on Moldova, Poland, and Germany.
Support and assistance include access to information resources, referrals, and connections to appropriate treatment-related services (ART, TB drugs, etc.) and social services: psychological, legal support, and humanitarian assistance.
Information support – provision of information support to representatives of key groups on available services in Ukraine and abroad (creation, adaptation, and dissemination of information materials about contacts, testing, counseling, adherence to treatment, use of services, as well as support and development of the online HelpNow service).
Navigation and coordination. Specialists of the project quickly assess relevant services, resources, and opportunities provided to refugees from Ukraine, including access to essential HIV/drug use/tuberculosis/hepatitis services, as well as more general social and life support. Key gaps in access to care are identified.
Social Support. Social (humanitarian) support is based on rapid situation assessment to address specific gaps, depending on each case, for additional support or referral among available relevant services.
Medical assistance. In partnership with the Public Health Center of the Ministry of Health, HelpNow Hub presented a unique approach for Ukraine to ensure efficient medical support for people living with HIV under forced displacement of Ukrainians within the country abroad. Namely, a universal profile of a doctor on the Help24 platform, which provides qualified online medical care to Ukrainian patients with HIV.