On December 17th, the Regional Expert Group on Migration and Health hosted a roundtable Migration and HIV in EECA region that took place on the eve of International Migrants Day. The event was held in Moscow and broadcast via zoom.
The purpose of the Roundtable was to facilitate an expert discussion of the most challenging issues on the nexus of migration and HIV/AIDS in Russia.
The event gathered over 50 participants from 16 countries – state officials, civil society activists, medical doctors, researchers, and professionals from international organizations.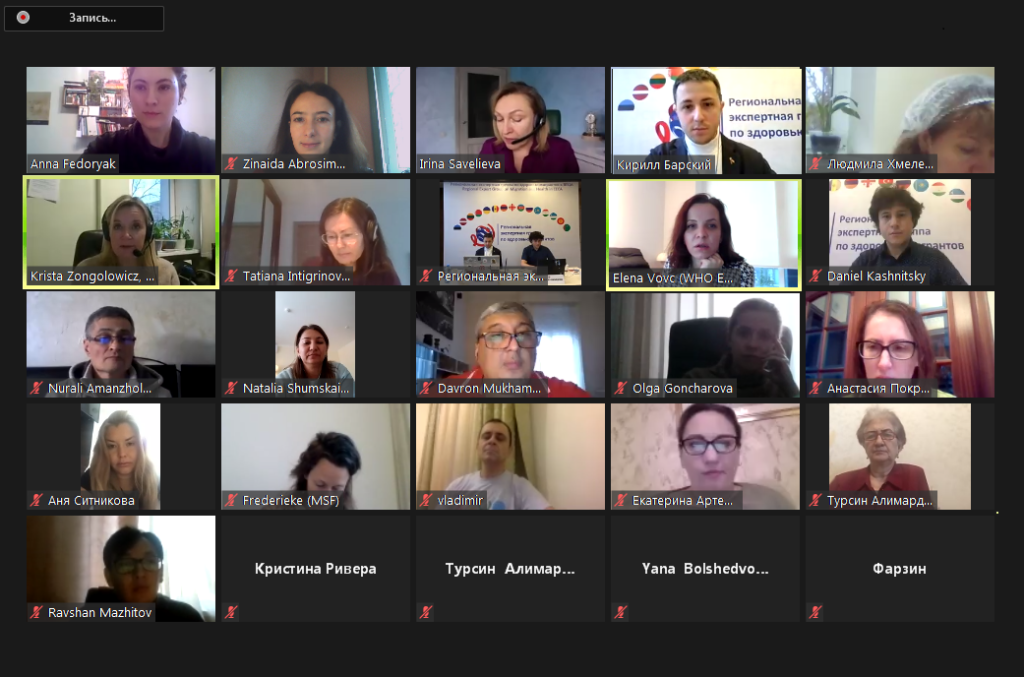 Krista Zongolovich, head of Oxfam in Russia, Azam Buzurukov, Program Coordinator at the UNAIDS Regional Office for Eastern Europe and Central Asia and Daniel Kashnitsky, Academic Relations Coordinator at the Regional Expert Group on Migration and Health made a welcoming speech.
For the first time in Russia, two international foreign migrants living with HIV spoke at a public event and shared about their life in Russia and various challenges they faced after being diagnosed with HIV.
Anastasia Pokrovskaya, a Senior Researcher at the Central Research Institute of Epidemiology, Federal Service on Surveillance for Consumer Rights and Human Well-Being, provided participants with latest update on the situation with migration in the context of HIV. Elena Vovc, Technical Coordinator of the oint Program on HIV, TB and Hepatitis at the WHO Regional Office for Europe, presented about Essential package of HIV services among migrants in EECA. Rukhshona Qurbonova, Subregional Coordinator on Muigrant Health for Central Asia at the International Organization for Migration, and Shakhlo Murodalieva, Chair of the Health Committee at the diaspora organization NUR spoke about capacities of migrant NGOs to improve migrants' access to social and medical care in the COVID time. Cross-border agreements on HIV prevention and treatment was highlighted by Davron Mukhamadiev and Alexander Mordovin from the International Federation of Red Cross and Red Crescent Societies. Vladimir Zhovtyak and Vladimir Mayanovsky from the East European and Central Asian Union of People Living with HIV presented an overview of health of migrants living with HIV on behalf of community in EECA region. In conclusion, Natalia Shumskaya, Chair of AFEW Kyrgyzstan gave an overview on this topic in Central Asian countries.
The roundtable was supported by Oxfam in the Russian Federation, AFEW International and the Steps Foundation.